Beaver Creek's Piedmonteses Cattle For Sale



ALL OF OUR ANIMALS SHIPPED OUT OF GEORGIA ARE SHIPPED WITH HEALTH CERTIFICATES IN COMPLIANCE WITH APPLICABLE STATE LAW.
www.beavercreekpiedmontese.com
cell 404 217 8471
email me: patreapabst@gmail.com
| | |
| --- | --- |
| We add new content often. Please click refresh button to make sure you see our new content... |   |
Add your name to our list for bred two year old heifers in 2018 - A deposit insures order of pick these are $5000 AI bred $4500 bull bred.

Contact me patreapabst@gmail.com

LOVELY TWO YEAR OLD AI BRED HEIFERS AND AI SIRED BULLS AVAILABLE
Two year oldfullblood heifers available August after confirmed ai bred with ultrasound
ai bred June 2nd to Valtino Valoroso AND Ucraino cleanup with bcp 548 BY PANCIO
---
We maintain a herd of about 50 brood cows and have about 20 heifers that are artificially inseminated (AI) bred with Anaborapi bull semen imported each year from Italy to obtain the very best available genetics. I then typically use two bulls that I have retained as clean up - one "heifer safe" and one for maximum weight gain to breed any that do not take with AI breeding. The bulls are pulled at 45-60 days, then sold. information and EPDs on Anaborapi bulls can be found at www.anaborapi.it under "Buta Bin" enter name. click on British flag to translate into English.
Accordingly, I have three categories of bulls that I sell every year:
two year old bulls that I use for breeding in June-July. these are selected from my very best ai bull calves at wearning. they are available end of August to September. they are priced at $4500. I currently have two available in September: BCP 545 by Platino out of an Oslo daughter and heifer safe BCP 548 by Pancio out of a Nipiol daughter (both 7/8 Anaborapi)
bulls at weaning in November - they are priced at $2500 to $4000. the very best are usually sold by January, the most spectacular selling immediately.
we do not yet have dna results to confirm parentage but sires include Uranus, Unico, Ural, Unanime, Ural, Uberto, Ucraino, and our spectacular Quesito son, BCP 477 Magnifico we wean in October and rank and price bulls at weaning, then reassess and rerank when we re-weigh and re-vaccinate a month later in November.
The weanling bulls that do not sell immediately after weaning and are between approximately 12 and 18 months of age. these are priced at $2500 to $4000
sometimes, as in this year, I kept back 4 instead of 2 to decide who to retain for breeding (I only use bulls one year and then sell, since I need genetic diversity in breeding stock) this is why BCP 588 is available. I have already sold the other, BCP 588.

---
BCP 548 TWO YEAR OLD BULL FOR SALE
Available August! Proven two year old black fullblood bull BCP 548 7/8 Anaborapi pedigree proven - bred to be heifer safe. tall bull, huge ribeye and extremely nice butt, correct legs, small head. RIDE AVAILABLE TO TEXAS IN SEPTEMBER.
---
OUR 2017 BULLS AVAILABLE FOR SALE!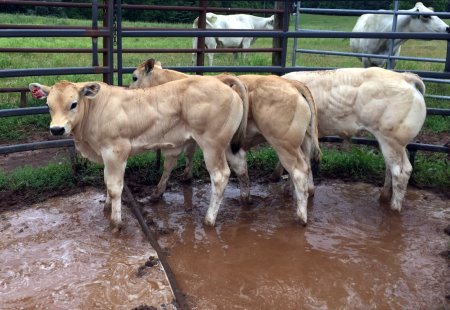 Some very nice bulls, low bw, very correct legs, small heads, large ribeyes and butts, good temperaments.
BCP 594
BCP 594 dob 4-16-2017 est bw 80 lbs grandson of Quantum and Nipiol, outstanding Anaborapi bulls - grass fed and unassisted calving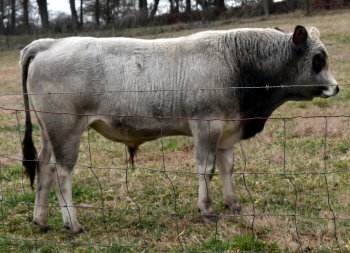 BCP 594






---

BCP 593
BCP 593 sired by Quantum son BCP 483 out of Cedro/Hugo granddaughter dob 4-12-2017 bw app. 85 lb

BCP 593 sired by Quantum son BCP 483 out of Cedro/Hugo granddaughter
dob 4-12-2017 bw app. 85 lb
$3500

---

BCP 588
BCP 588 by Oracola x Cito daughter dob 3-27-2017 bw app 75 $4000


BCP 588


BCP 588

---

BCP 604
BCP 604 May 2017 sired by BCP 477 by Quesito x BCP 481 by Quoziente $3500


BCP 604

---

BCP 598
dob 4-27-2017 est bw 75 lbs unassisted sired by the amazing BCP 477 Magnifico by Quesito out of a Sirio Fogot daughter. would be terrific for crossbreeding

---

Available November!

BCP 609
BCP 609 by Ural x BCP 392 by Oceano


BCP 609

DOB 3-18-2018. est bw 70-75 lbs
Probably going to retain this boy but we have BCP 616 another Ural son x BCP 208 (incredible Hugo daughter) with even HIGHER weight gain! unfortunately for us, we have a lot of Hugo daughters and granddaughters so....

BCP 632



BCP 632

BCP 632 born 4-23-2018 est bw 75 - HE IS ONLY TWO MONTHS OLD1 sired by the infamous BCP 477 by Quesito x BCP 488, a lovely daughter of Quibis

BCP 617



BCP 617


BCP 617 by Uberto out of BCP 189 (Tyson x Hugo daughter) dob 3-22-2018 est bw 75

BCP 615



BCP 615


BCP 615 by Unico x BCP 243 (by BCP 178 by Hugo x Sirio Fogot daughter) dob 3-22-108 est bw 75 lbs

---

.BUYER PAYS FOR HEALTH CERTIFICATE.